Mandi Ber Von Reiken with baby Lieka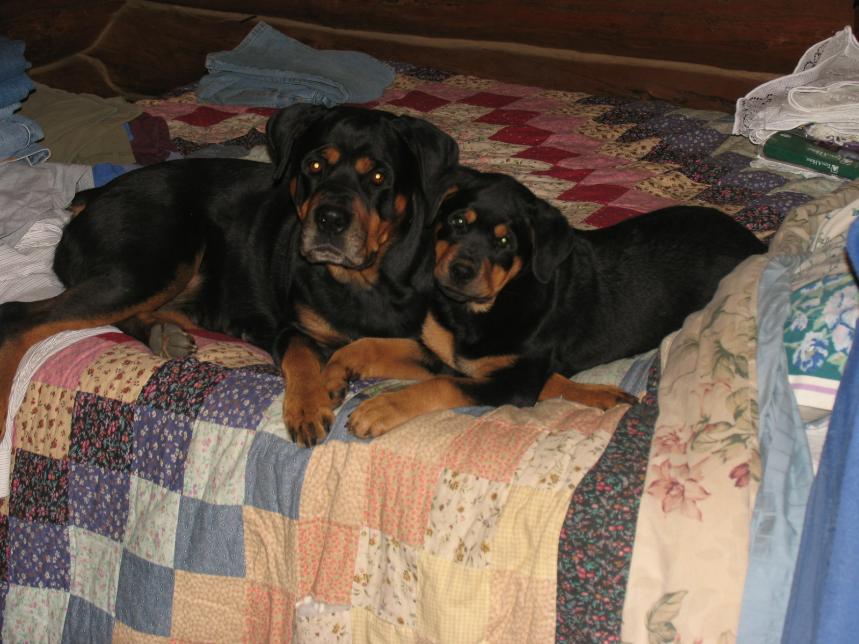 We are small breeders of Rottweilers. We live in very remote part of eastern Oregon and our dogs are our family members. We have had and raised Rottweilers on and off for over 30 years. Our dogs have many famous rottweilers in their bloodlines! They are raised in our house and spoiled rotten, but always obedient and love our grand children, cats, chickens and horses. We train our dogs and get their CGC titles as well as novice and beginner novice AKC titles. We are not just breeders of Rottweilers! Because understanding the health issues that Rottweilers can have is so important,we have learned some very important steps to ensure our dogs have the best possible start to the best health possible! Our goal is to raise healthy, intelligent, gentle, loving dogs that are also gorgeous & capable of becoming a working dog, service dog, show dog or family pet. We believe a dog's health depends so much on environmental conditions & food from birth! Even from before birth is starts with healthy parents in a healthy environment! I've taken allot of time and effort to learn & use some very important details about health issues. Hips & elbows are a huge part of this.
We choose to research as much info on the health & longevity as possible for our dogs & have had our last 2 past females live long & healthy lives, both lived until they were over 14 years old. We believe in keeping our yard and home organic, and use non toxic cleaning and yard products. We purchase non toxic toys and bedding and we feed top quality dog food and treats. I've done allot of research on ingredients in dog food & have found the majority of kibble on the market today is very poor! A dog cant be healthy eating junk food filled with carbs. I took an online course which included the environmental causes of hip & elbow dysplasia and studies show strong evidence that it is not just genetic but also can start forming as soon as pups are born in the whelping box! We provide a non toxic pad for the pups so they can get traction and not slip while nursing, keeping the legs in the proper position for forming the joints as healthy as possible. The joint is not formed at birth and is very dependent upon proper positioning while the pup nurses while the joint is forming. We spare no costs in raising our pups to be the healthiest they can be and to inform all new owners of how best to continue a healthy life. This includes minimal vaccinations and pest control as well as late neutering to allow healthy hormones to develop as your dog grows and matures.Cancer is a huge concern of all pet owners these days. Many environmental causes are to blame for cancer (more so than hereditary) including too early of neutering, toxic toys, treats, chemicals we often use in our homes and yards over vaccination, toxic flea and tick products and poor quality food! Our pups are taught to be loving companions.We care about our pups from birth on, offering lifelong support for their health & training or behavioral needs to the end. We hope to always keep in contact with their owners about how they grow and develope into wonderful lifelong pals.
Karie Motz Address

P O Box 157
Beatty, Oregon, 97621
541-892-2614